21st Birthday Decorations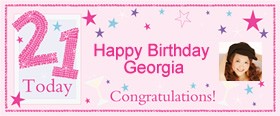 If you are after 21st birthday decorations then you simply NEED to visit Party Delights or PartyBox!
They both offer a huge range of 21st birthday accessories, banners, confetti, balloons, candles, napkins, shimmer, straws (the list goes on!).
They both also offer personalised banners which was pretty cool, although Party Delights go the whole way and actually print the 6ft/10ft banners for you. This however comes at a cost but it definately look like they are worth it!
My better half just bought some decoartions from these shops which encouraged me to write about it in the blog. I was just amazed how cheap the 21st birthday decorations were!
If any of you purchase any decorations from either of these sites, make sure you send your party pics in for the site!
For 21st birthday decoartions these guys are simply the best.
---